scsynth url should launch:
Categories
Latest
I use email
There's a user preference for this.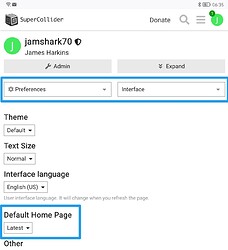 … so I won't vote, because I see no need to impose my preference on others.
hjh
The votes are anonymous & the results will be revealed in about a week.
Some of us have experienced a recent change in this forum's launch behavior, and it couldn't hurt to know how the community interacts with this space.
The spoiler alert at the end of the week would have inevitably revealed that… yes, it is actually configurable under Preferences >> Interface

Glad to learn it's configurable!
Yes ditto! I had looked a few days ago, after the change and I couldn't find it. Glad to know it's possible.