hi
I am wondering if there is a way to create a GUI layout like the one in the mockup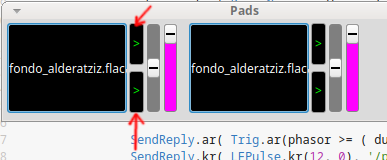 attached.
So far I am just using a FlowLayout, just dumpling all the widgets there and using w.view.decorator.nextLine; to create new rows. But I want to have in some cases two buttons one on top each other in between other widgets (see mockup, it will be easier to understand, it is marked in red).
I thought I could use a VLayout or GridLayout but I dont see how to get what I want. I tried to use GridLayout which allows some widgets to span across several cells in the grid but I get very weird results with buttons resizing themselves in strange ways. Is there any in depth tutorial of GUI creation in Supercollider? I could not find any…
Note that set of widgets is controlling a sample, potentially the window will contain up to a dozen of sets of widgets. I hope I made myself clear.
thanks
enrike