I've recorded some of my SuperCollider pieces as "WAV" files from SuperCollider.
And those files are barely recognizable by other applications.
dBpoweramp is not able to find encoding those files have, my Java and JavaFx app are not able to play them, … While they are no issues with regular PCM or IEEE encoded files.
This is the recording instruction (for a pattern):
.record(server: s, clock: t,quant:4, path: ~file, dur: nil, headerFormat: "WAV", sampleFormat: "int16")
When I reopen the file as a SoundFile (in SuperCollider), I see that the headerFormat is "AIFF" and "float", despite my instructions: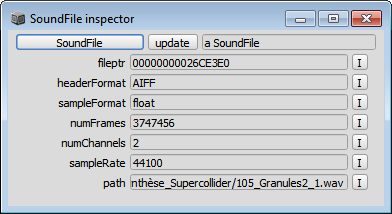 So bug in SuperCollider or error of me ?