I am trying syncopate colored text with a beat and am using a Routine to do so. Here is my GUI component for visualization:
The 1s and 0s are mapped to a Pseq which controls an amplitude argument. As time progresses, each 'bar' or text field, turns yellow, indicating those are the values being played.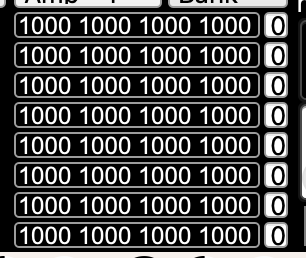 I wrote this code to help sync the beat with the color. The ~t1_a_dur_state_a values help me keep track of duration args as I also need to factor in duration. This ~q0dur-~q8dur are initialized to 0 and then just increment +1 each per each beat.
My issue currently is that if the duration = 8, then the waitTime (the var I'm using to essentially quantize the Routine) is 8… and so, if I update the ~t1_a_dur_state_a value to say 0.125, it does not re-trigger the Routine until 8 seconds after. I need this ~waitTime value to be updated instantly and for the Routine to re-trigger instantly if the ~t1_a_dur_state_a value is triggered. Does anyone have any ideas on how to achieve this?
r = {
    inf.do {
        z.do {
            {

					if(~durbank[~t1_a_dur_state_a] == 8){~q0dur = ~q0dur + 1; ~waitTime = 8};
					if(~durbank[~t1_a_dur_state_a] == 4){~q1dur = ~q1dur + 1; ~waitTime = 4};
					if(~durbank[~t1_a_dur_state_a] == 2){~q2dur = ~q2dur + 1; ~waitTime = 2};
					if(~durbank[~t1_a_dur_state_a] == 1){~q3dur = ~q3dur + 1; ~waitTime = 1};
					if(~durbank[~t1_a_dur_state_a] == 0.5){~q4dur = ~q4dur + 1; ~waitTime = 0.5};
					if(~durbank[~t1_a_dur_state_a] == 0.25){~q5dur = ~q5dur + 1; ~waitTime = 0.25};
					if(~durbank[~t1_a_dur_state_a] == 0.125){~q6dur = ~q6dur + 1; ~waitTime = 0.125};
					if(~durbank[~t1_a_dur_state_a] == 0.0625){~q7dur = ~q7dur + 1; ~waitTime = 0.0625};
					if(~durbank[~t1_a_dur_state_a] == 0.03125){~q8dur = ~q8dur + 1; ~waitTime = 0.03125};


					~fulldur = ~q0dur+~q1dur+~q2dur+~q3dur+~q4dur+~q5dur+~q6dur+~q7dur+~q8dur;
					//(((t.beats.floor)%t.beatsPerBar+1)).postln;
					if(~fulldur >= 32){
					~q0dur=0;
					~q1dur=0;
					~q2dur=0;
					~q3dur=0;
					~q4dur=0;
					~q5dur=0;
					~q6dur=0;
					~q7dur=0;
					~q8dur=0;
					~fulldur=0;
					};
					~fulldur.postln;
				}.defer;
        };
			(~waitTime*t.tempo).wait;
    }
}.fork;