Hi y'all,
after happily using SuperCollider for sound synthesis in emacs for a few months, today I tried to dabble with SoundIn.
As it turns out, on Mac OS Catalina (10.15.7), you need Microphone Permissions to get sound into SuperCollider. Using the IDE this works as expected, and Emacs has microphone permissions, too: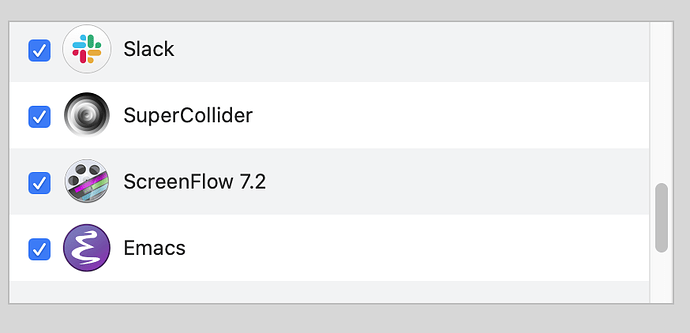 Still, I don't get any sound in.
I suspect this has to do with the fact that in emacs mode, SuperCollider launches a standalone scsynth process, which does not have microphone permissions:
$ ps aux | grep scsynth                                                                                                                                                           64|15:41:08
jrubisch         57662   0.4  0.1  5123704  29264   ??  S     3:39PM   0:03.09 /Applications/SuperCollider/SuperCollider.app/Contents/Resources/../Resources/scsynth -u 57110 -a 1024 -i 2 -o 2 -R 0 -l 1
jrubisch         58011   0.0  0.0  4408548    784 s030  S+    3:46PM   0:00.00 grep --color=auto scsynth

has anyone had this problem already, and solved it? thanks!